Birth Arts International Doula Certification Workshops
March 29th Birth Doula Intensive at The Nesting Place, Ridgewood, NJ
April 5th Postpartum Doula Intensive at The Nesting Place, Ridgewood, NJ
April 16th & 17th Birth Doula Training at Heywood Hospital, Heywood, MA
with Kimberleigh Weiss-Lewit, MA, IBCLC, CD/CDT (BAI), E-RYT 500, YACEP
Train with Birth Arts International and be prepared to support families through pregnancy, birth and early postpartum. This training is not just for those planning a career as a doula but for anyone interested in diving into the world of labor and birth support. You will learn about emotional, physical and informational support in a relaxed learning environment. You will begin the journey of finding your authentic style and approach to serving families. After the training, everyone who attends will have access to the BAI online classroom.
$550 for Birth or Postpartum Doula Training & Certification Support
Early bird pricing of $450 available
This doula workshop fee includes the online course manual, the training fee and all components of certification including communication with Birth Arts Director, Demetria Clark.
Students may purchase the printed training manuals at the training.
There are no additional certification processing fees and certification does not need to be renewed.
The course fees are non refundable and only transferable at the discretion of the trainer.
Full payment is required to secure your place in your training session. Once accepted into the training, payment will be due by check or by registering online here.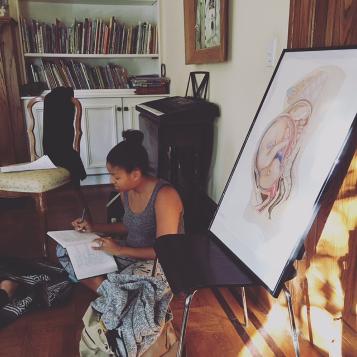 Spending a weekend with Kim was an incredible way to kick off BAI Certified Doula training. Kim is a warm, accessible, knowledgeable trainer and role model for the aspiring doula. She provides a safe, non-judgmental environment to her class, where everyone felt open to share, question, learn, connect and have fun. This open and calm teaching method seems to directly mirror her presence as a doula. The class included a broad overview of many elements that inform the doula role: childbirth/anatomy basics, how to provide emotional support, self-reflection and awareness, physical coping and massage techniques, scope of practice and the logistics of running a doula business. One of the greatest takeaways from this training was Kim's encouragement to look inward when finding your "voice" as a doula, that the skills you'll continue to hone are already within you, and every individual's personality will manifest itself differently in the role of doula. I left feeling inspired and ready to continue on this journey of helping to support and inform our fellow women of their options in birth. I am excited to train and practice following the holistic framework of BAI.
Jacqui, BAI Doula